This article has been reviewed by licensed insurance industry expert, Moshe Fishman on 10/16/23.
If you're like most people, the only time you think about car insurance is when you need it. There's no end to the information when that happens, and it is difficult to sift through the noise. Car insurance is confusing enough without all the noise, which is why you need to be aware of what's true and what's just a plain myth. We've compiled a list of the nine most common car insurance myths and debunked them for you!
Myth #1: All insurance policies are created equal
You may think that it doesn't matter which insurer you decide to go with because they all offer the same policies. That's false.
While most insurance policies share some overlapping coverage, it is essential to note that rates charged for the same exact car and driver can vary by hundreds or even thousands of dollars from one insurer to the other, so it's wise to shop around compare quotes.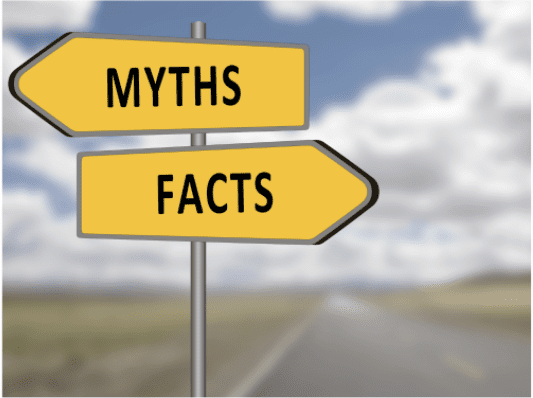 Myth #2: Car insurance covers every trip
Unfortunately, this is false. Typically, your car insurance policy doesn't cover accidents that happen during work-related trips. Suppose you are an entrepreneur, independent contractor, or small business owner and use your car for work. In that case, it is crucial that you add on commercial auto insurance to protect your vehicle while it's on the road.
With this type of insurance, you are covered for all the risks associated with driving your car to and from work, as well as on work-related trips. If you have any employees that use your vehicle, be sure to check their driving records throughout the year to ensure that they are being safe and responsible.
Myth 3: I can get coverage with any insurer I choose
This is a big one for many people, but you can actually be denied coverage by an insurance company. For example, if you have canceled your previous policy and have been driving without insurance, recently filed for bankruptcy, filed too many claims, or were engaged in criminal activity, an insurance company may refuse your application.
If an insurer deems you as too risky or dishonest, they may deny you coverage with or without an explanation. That said, each state has its own laws regarding prohibited reasons to deny coverage.
Myth 4: Having the minimum state-required coverage is enough
While each state has its own minimum requirements, in most states, liability coverage is the type you must have to legally drive.
We strongly recommend against relying on liability coverage as your only coverage as it is not sufficient to fully protect you in the event of an accident. In most cases, liability coverage only covers a fraction of accident costs and only pays for damages up to the amount specified by your policy.
For example, if you have a $25,000 liability coverage and are involved in an at-fault accident with a luxury car where the total amount to repair the damages done to the other car is $40,000, you would not only be expected to pay the difference in repairs for the other vehicle but would also have to fully cover the cost of repairs to your own car.
As you can see, not having comprehensive or collision coverage is a considerable risk, and our advice is to always go with as much coverage as you can afford - a few bucks saved now could end up costing you thousands later.
Myth #5: I shouldn't get a red car because my insurance premium will spike
There's absolutely no truth to this myth. It doesn't matter whether you drive a red or green car. Your car's color is irrelevant and has nothing to do with the price of your premiums. Insurers mainly look at factors such as the car's age, make and model, engine size, costs to repair, body type, and factors related to you, such as your age and driving record when they determine your rates.
Myth #6: I can't switch insurers because my policy is locked for a year
False. If you're looking to move to a new insurance company, you can cancel your policy before it is time for renewal. Although there might be a cancellation fee, the savings with the new insurer may help recoup that charge and save you money in the long term.
It is important to note that if you do choose to cancel your coverage and go with a new insurer, make sure there is no lapse in coverage at any point.
Myth #7: Shopping around for car insurance will increase my premium
This is another myth that has led many consumers to believe that shopping around for car insurance is a bad idea. However, the truth is that shopping around and comparing quotes can actually save you big bucks and lower your rates.
By looking at quotes from different providers, you can determine which company offers the best deal for the most amount of coverage and choose the insurer that gives you the most value for your money.
Myth 8: If my car is stolen or vandalized, I am always covered with car insurance
Not quite. The only type of insurance that covers theft, vandalism, and even hail or fallen trees is comprehensive insurance, which is optional coverage. If you do not have this type of coverage, a standard policy will only cover your car if it is damaged due to an accident.
Myth #9: I let my friends drive my car because they also have car insurance
This is another false assumption. In most states, car insurance coverage plans don't extend across cars. In other words, your coverage is connected to your vehicle, not the person behind the wheel. Even if your friend has car insurance, by allowing them to drive your vehicle, you are essentially lending them your insurance as well.
Therefore, if your friend gets into an accident while driving your car, your insurance will kick in, and the claim will go on your record (which will likely raise your insurance premiums). Nonetheless, policies regarding this situation vary between states, so be sure to check the insurance requirements in your state before lending your car to a friend.
Some myths contain a kernel of truth, but for the most part, they are based on poor assumptions or old wive's tales. Now that you know the truth about some of the most common car insurance myths, you can avoid costly car insurance mistakes by arming yourself with the proper knowledge.