Many folks are asking "Can I Use My Personal Car and Auto Insurance as a Delivery Service Provider?"
So, we decided to answer the question that's on so many people's minds.
This article has been reviewed by licensed insurance industry expert Moshe Fishman.
More and more people are working as delivery drivers for companies such as Instacart, Amazon Flex, Doordash, Grub Hub, Uber Eats, and others. It's easy to see the appeal of being a food delivery driver, with the many perks they offer. You can set your own schedule and hours and work part-time to supplement your income. Or make it a full-time gig.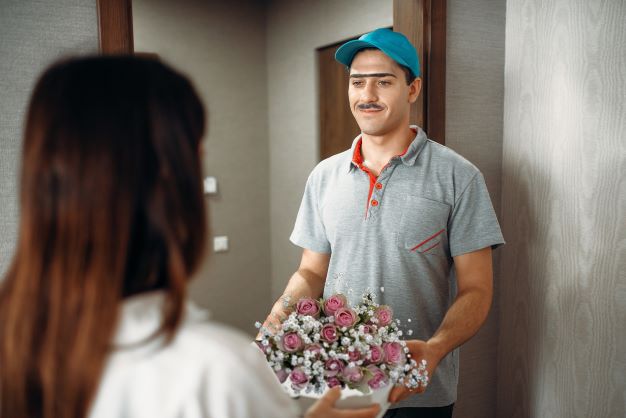 Most auto insurers prohibit the use of a personal vehicle for the transportation of goods and for any type of personal business venture. Although many delivery service companies provide auto insurance coverage to their employees, it's easy for delivery drivers to assume this insurance covers fully the damages caused from a car accident.
Delivery companies consider drivers to be independent contractors and as such, do not have to provide extensive insurance coverage to their employees. These coverage gaps are more common than people realize.
If you're considering becoming a delivery driver or already work as one, delivery driver insurance is essential. This special type of insurance, sometimes called food delivery insurance, is different from rideshare insurance which is for Uber and Lyft drivers.
Rideshare insurance may not provide coverage for the delivery of food, groceries, or packages. Read on to learn about how to properly insure yourself and your car in the event of an accident while working as a delivery driver.
Delivery Driver Insurance Options
Business and commercial car insurance policies are smart options, although the insurance cost may be high. There are also add-on coverage options you can add to your coverage. Without the proper add-ons, your personal insurance company can deny your claim or drop you as a customer if they discover you've been using your car to deliver food or other items. Worst case scenario, you could be charged with insurance fraud.
Commercial Policy:
Provides coverage in the event of any incident or accident and peace of mind knowing you're fully covered.
The premium depends on several factors such as vehicle type, number of miles driven, driver's history, and more.
Covers any vehicles owned and used by the business.
Business Use Auto Policy:
For motorists who use a personal vehicle for limited business use.
Full-time contract employees may not qualify for this type of coverage.
Usually includes liability insurance and physical damage coverage, and uninsured/underinsured motorist coverage.
Which delivery companies provide auto insurance?
The amount of coverage that delivery companies provide varies from company to company, if they provide any coverage at all. It's also essential to know that each company has specific rules that apply during each stage of the delivery process. For example, they may cover incidents that occur during these phases, assuming the driver is logged into the company app:
The driver is waiting to accept a pickup.
The driver is on the way to the pickup location after accepting a delivery job.
The driver has picked up the delivery and is enroute to the destination.
Incidents that occur when the driver isn't logged in to the company app aren't covered at all.
If you're considering working for a specific delivery company, say to deliver pizza, it's essential to know what coverage is provided. However, because many delivery drivers work for multiple companies, consider getting personal rideshare insurance which extends auto coverage to all phases of the delivery process.
DoorDash:
Provides insurance but it only applies to accidents that occur on an active delivery.
The insurance kicks in after the employee has gone through their own insurance first. So, this might affect your insurance rates.
Amazon Flex:
The Amazon Flex Auto Policy is considered one of the most robust among all delivery companies.
It applies while drivers "deliver packages, pick up packages and return undelivered packages back to a designated location."
Includes liability coverage, contingent comprehensive and collision for drivers who carry this on their personal policies, and uninsured/underinsured motorist coverage. But, what about medical bills?
New York residents must have their own commercial driver's insurance.
Postmates:
Provides excess auto insurance that does not replace personal insurance.
Auto excess insurance provides $1 million limit covering liability for drivers in automobiles for bodily injury and/or property damage of third parties.
The insurance kicks in after the employee has gone through their own insurance first.
UberEATS:
Coverage for delivery drivers is handled by Portier LLC, a subsidiary of Uber.
The insurance coverage applies only while drivers are on active deliveries.
The coverage is similar to the coverage provided while driving as a rideshare driver for UberX.
Instacart and Grub Hub:
Unlike other delivery services, Instacart and Grub Hub do not provide vehicle insurance or auto coverage to their drivers. If you want to drive for either of these companies, there are insurance options for drivers. Many insurance companies have the option of purchasing a reasonably priced add-on policy.
When contacting your insurance company, be sure to specify that you are driving for Instacart and/or Grub Hub. Depending on the insurer, you may need to purchase a rideshare add-on policy or a separate commercial auto insurance policy. Here are some options:
Purchase a commercial insurance policy.
Purchase rideshare coverage from your personal auto insurance company, making sure to specify that you'll be driving for either Instacart or Grub Hub.
If your insurer doesn't offer rideshare services coverage, consider switching your personal car insurance policy to a company that offers rideshare endorsement and coverage.
What if I'm a seasonal delivery driver?
Even if you're only working occasionally as a seasonal driver, you may still need additional coverage to protect yourself. It's better to be safe than sorry. Check with your insurance about what's required for seasonal work.
What if I live in New York State?
New York State has specific rules about commercial driving insurance. If you're a New York resident, be sure to check with your insurance company before taking on work as a delivery driver.
What if I'm driving a company vehicle?
There are two circumstances where delivery drivers might not need to purchase additional coverage: if you use your car for employer deliveries on a temporary basis and if you make deliveries with a vehicle owned by your employer.
Check with your insurance company.
Delivery driver insurance will protect you and your assets from fiscal responsibility in the event of an accident, theft, or vandalism while working as a delivery driver. Check with your insurance company to make sure you'll be fully covered. If your current insurer doesn't provide any coverage, it may be time to shop around.