This article has been reviewed by licensed insurance industry expert, Moshe Fishman on 9/26/2023.
Car insurance can be confusing. There are so many options and it's hard to know what type of coverage you need. Don't worry, we've got you covered! Keep reading to learn about the most common types of coverages you should know about.
It's important to understand what your options are when it comes to protecting yourself and your loved ones in case of an accident, theft, or another unfortunate event. There are six main types of car insurance you should know about: Liability, Collision, Comprehensive, Personal Injury Protection (PIP), Uninsured/Underinsured Motorist Coverage, and Medical Payments (MedPay) Coverage.
In this article, we will discuss each coverage and why you may or may not want to add it to your policy. Keep in mind that you need to meet the minimum amount of car insurance required by your state, so make sure to do your research.
Liability Insurance Coverage
Liability car insurance covers injuries and damages caused to someone else in an accident where you or anyone else listed on your policy are deemed to be at fault. This is the most important type of car insurance coverage and is legally required by most states. There are two types of liability coverage:
Bodily Injury Liability Insurance (BI): Covers treatment of injuries, medical bills, and other expenses in accidents where someone else is injured and you are found at fault.
Property Damage Liability Insurance (PD): Covers damages to someone else's property and you are found at fault. These damages include car-related repairs or other property damages, such as a fence or a building.
Collision Coverage
This type of car insurance will help cover repairs or replacement costs for your own car or property if you get into an accident with another car or object - such as hitting a tree or a mailbox. Collision car insurance may help replace or repair your car and is often required if you are leasing or financing your car.
Comprehensive Coverage
This car insurance is a "catch-all" type of car insurance that helps cover damage not related to a collision - including, but not limited to: hail or fire damage, theft, and vandalism. If you are leasing or financing your vehicle, comprehensive insurance is typically required.
If you plan on driving your car a lot, you might want to add comprehensive coverage for added peace of mind. We also recommend considering this type of coverage if you're not financially prepared to repair or replace your vehicle in the event of sudden damage.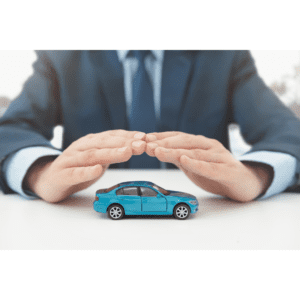 This type of car insurance can protect you if someone without car insurance or with insufficient car insurance ends up hurting you in an accident that was their fault - which, unfortunately, is something that happens more often than people realize! This insurance can also help in situations of hit-and-run or when the policyholder is hit while walking down the street.
Personal Injury Protection (PIP)
Personal Injury Protection (PIP) covers medical expenses for you and your passengers following an accident, which may include medical bills and injury-related costs, such as lost wages, funeral expenses, and child care assistance. PIP insurance coverage varies across states, does not depend on which driver is at fault, and typically has a low deductible.
PIP insurance is required in 12 states (Delaware, Florida, Hawaii, Kansas, Massachusetts, Michigan, Minnesota, New Jersey, New York, North Dakota, Oregon, and Utah), but we recommend purchasing it even if you don't reside in any of those states to avoid large medical bills.
Medical Payments (MedPay)
This type of car insurance is similar to PIP but is much less comprehensive. MedPay covers the policyholders and any passengers for accident-related injuries. MedPay covers doctor and hospital visits, and can also cover health insurance and PIP deductibles/copays. Although only required in Maine and New Hampshire, we still recommend purchasing MedPay as additional coverage to your PIP or health insurance.
Important Takeaways
All states require at least some level of liability coverage. You must fulfill the minimum amount of car insurance required in your state, so make sure to check your state's requirements.
Although comprehensive and collision coverage are not required in any state, we strongly advise you to get them.
In some states, personal injury protection (PIP) is required, which covers the costs you or your passengers incur if you or a passenger are hurt in an accident.
In this article, we've covered six different types of car insurance coverages so that you can make a more informed choice when deciding which policy is right for you. However, this is not an exhaustive list as there are many optional insurance coverages you might want to consider.
For example, If your car is older and might need some work, then it may be a good idea to add mechanical breakdown car insurance so that if something goes wrong with the car while on the road you will not have to pay out of pocket for repairs yourself. If you go on many road trips throughout the year, it might be a good idea to add road trip travel insurance, which covers trip cancellations and/or interruptions and medical emergencies.
If you're like most people, you probably don't think about your car insurance until something bad happens. But in the event of an accident or other mishap, it's important to know what type of coverage will be best for you and your family. There are car insurance coverage options for every car owner - whether you own or lease your car. Check out 5 Minute Insure to get personalized quotes for your needs!