This article has been reviewed by licensed insurance industry expert, Moshe Fishman.
Do you ever use your car for business purposes? Are you a small business owner who occasionally asks employees to use their personal cars for business purposes? If so, you may need commercial auto insurance. That's because a personal car insurance policy doesn't cover the use of a personal vehicle for the transportation of goods or business ventures.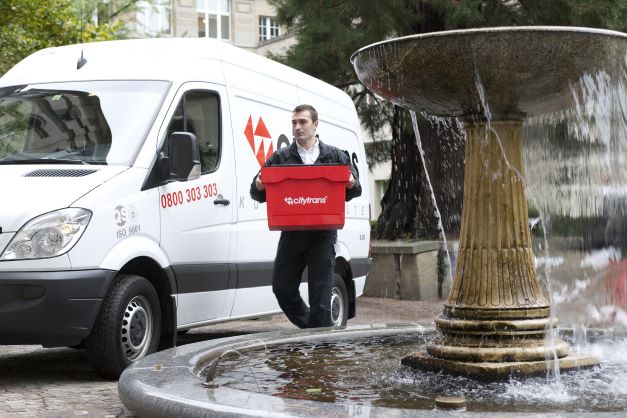 But what exactly is considered "business use" and "personal use?" The difference between personal use and business use can be tricky to define, even when consulting the definitions provided by car insurance companies.
In a nutshell, vehicles used for any business purposes will need to be covered under a commercial auto policy. In addition, if you ask your employees to drive for business purposes, you need commercial auto insurance. So, this means company cars and family cars used for business purposes.
Take a look at these scenarios illustrating the differences between personal versus commercial uses and the appropriate category of insurance coverage:
| | |
| --- | --- |
| Personal Auto Insurance | Commercial Auto Insurance |
| Picking up morning coffee for co-workers. | Delivering coffee to customers as a food delivery driver. |
| Driving friends to a party or a camping trip. | Transporting clients to work-related events or log high mileage driving to job sites. |
| Picking up a friend at the airport. | Picking up clients at the airport. |
| Driving to the construction site where you work. | Hauling equipment to a construction site for your company. |
What are some insurance options for businesses and employees?
Once you determine the extent of use of a vehicle for business purposes, it's important to provide the insurance policy with the right type of coverages.
Commercial Policy:
Companies purchase this type of policy to cover their employees.
A commercial policy covers all vehicle types owned by the business such as vans, cars, box trucks, food trucks, etc.
Insurance premiums that you can expect to pay depend on several factors including the type and number of vehicles being insured.
Commercial auto insurance provides higher coverage limits and costs more than personal auto insurance.
Such a policy may cover vehicles that the company doesn't own such as an employee's personal vehicle used for business functions.
On a positive note, these insurance costs may be tax-deductible as a business expense.
Business Auto Policy:
A business auto policy is typically purchased by companies for their employees.
Qualification for this type of coverage depends on how business-related vehicles are used.
This type of policy covers vehicles used for business-related purposes through regular traffic. For example, a courier drives the vehicle when delivering documents.
Business-Use Policy:
Business-use policies are purchased by employees who use their own vehicles for limited business use.
Part of the premium may be tax-deductible.
Check with your insurance company to see if you qualify for this type of insurance.
What does commercial auto insurance include?
Commercial auto insurance is like personal auto insurance in that it covers liability, comprehensive, collision, and uninsured motorists. Usually, the premium is more expensive, and the coverage limits are higher. This is because vehicles are used more frequently and are thus more likely to be involved in costly accidents.
Liability Coverage:
This coverage includes bodily injury damages as well as property damages.
Pays for legal fees resulting from litigation.
Collision Coverage:
Covers damage to vehicles due to accidents caused by business vehicles.
Comprehensive Coverage:
Covers damage due to non-accident-related incidents such as thefts, flood, fire, and vandalism.
Uninsured / Underinsured Motorist Coverage
Covers injury damages or property damage if the accident is caused by an uninsured driver who's at fault.
Covers hit-and-run drivers.
May cover an at-fault, underinsured driver who doesn't have enough insurance to cover all expenses.
Medical Payments Coverage
This type of coverage pays for medical bills and funeral expenses for injuries and deaths, regardless of who's at fault.
Personal Injury Protection
Covers loss of income and medical expenses suffered by occupants of business vehicles, regardless of fault.
There are additional types of commercial auto coverage that are included with commercial auto insurance that are generally not available with personal auto coverage. Here are some of these additional coverages.
Towing coverage pays for towing services and roadside assistance when the vehicle breaks down.
Loading and unloading liability covers physical damage due to the loading or unloading of commercial vehicles.
Equipment and supplies coverage pays for the replacement of damaged supplies and equipment after an accident.
Loan/lease gap coverage kicks in when a vehicle is totaled in an accident and covers the difference between the cash value of the vehicle and the unpaid balance on the loan or lease.
Generally, commercial auto insurance doesn't cover tools or equipment being carried or transported by the vehicle; these would be covered under a business owner's policy. A homeowner's or renter's insurance policy would cover personal belongings in the vehicle.
Is commercial auto insurance the same as rideshare insurance?
No. Commercial auto insurance does not apply to business owners and contract employees who work for ridesharing companies. Rideshare insurance is required for drivers who work for companies such as Uber and Lyft.
How much is commercial auto insurance?
Premiums vary from company to company so it's best to shop around to ensure you or your company are getting the best price. Commercial auto insurance is guaranteed to be costlier than personal auto insurance. Coverage limits tend to have a minimum of $500,000 and can be more than $1 million.
Insurance carriers use several factors to determine their rates. These are the main factors that influence the price of a commercial auto insurance premium:
Make, model, and year of insured vehicles
How many vehicles will be insured by the policy?
Cost of the vehicles when brand-new
Vehicle weight (for commercial trucks and vans)
Driving histories for any driver who may potentially use the vehicles
How the vehicles will be used by the business
The number of previous auto insurance claims submitted by the business
Do I need commercial auto insurance for occasional use?
If you work for a company and use your personal vehicle occasionally for work, a personal policy with the right coverages may meet your needs. When getting a quote for a personal insurance policy, be sure to mention that your car is being used occasionally for business.
If you change employers and this becomes a requirement for your job, you should let your current insurance company know. Not letting your insurer know may result in not being covered for any work-related accidents, even if you use your vehicle for work infrequently.
When it comes to commercial auto insurance, it's better to be covered than be sorry when the unexpected happens. Check with your insurance company to see what type of policy is right for you.